Der Comic "War of the Realms Extra" ist leider kein abgeschlossener Band und auch nicht der Beginn einer Serie, sondern eine Mischung aus Fortsetzungsstorys und einigen kleinen Miniserien, in denen unter anderem Daredevil und auch der Punisher eine außerordentliche Rolle zukommen.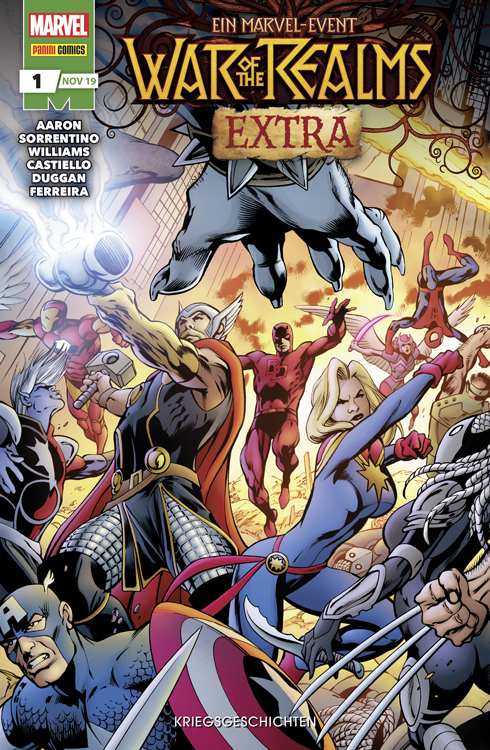 Zum Inhalt des Bands:
Der Krieg der Welten erreicht nur doch auch die Erde. Die Armee von Thors Erzfeind Malekith bringt Zerstörung und Leid in die US-Metropole New York. Der Punisher stellt sich gegen die Armee aus Höllengeburten – schafft seinen Auftrag aber nur mit Hilfe fragwürdiger Verbündeter, die er mit Hilfe seiner gnadenlosen Philosophie in Schach halten kann.
Ebenfalls mit von der Partie: Daredevil – wie schon erwähnt – und Wolverine. Zudem muss Howard the Duck als Privatdetektiv ermitteln und Ant-Man und sein Team müssen auf Undercover-Mission ins Territorium der Frostriesen.
In Szene gesetzt wurde dieser Band unter anderem von Andrea Sorrentino und Marcelo Ferreira erdacht von Gerry Duggan und Jason Aaron.
Details zum Band:
Marvel | War of the Realms Extra 1: Kriegsgeschichten
Panini Verlag
Zeichner: Andrea Sorrentino, Marcelo Ferreira
Autor: Gerry Duggan, Jason Aaron